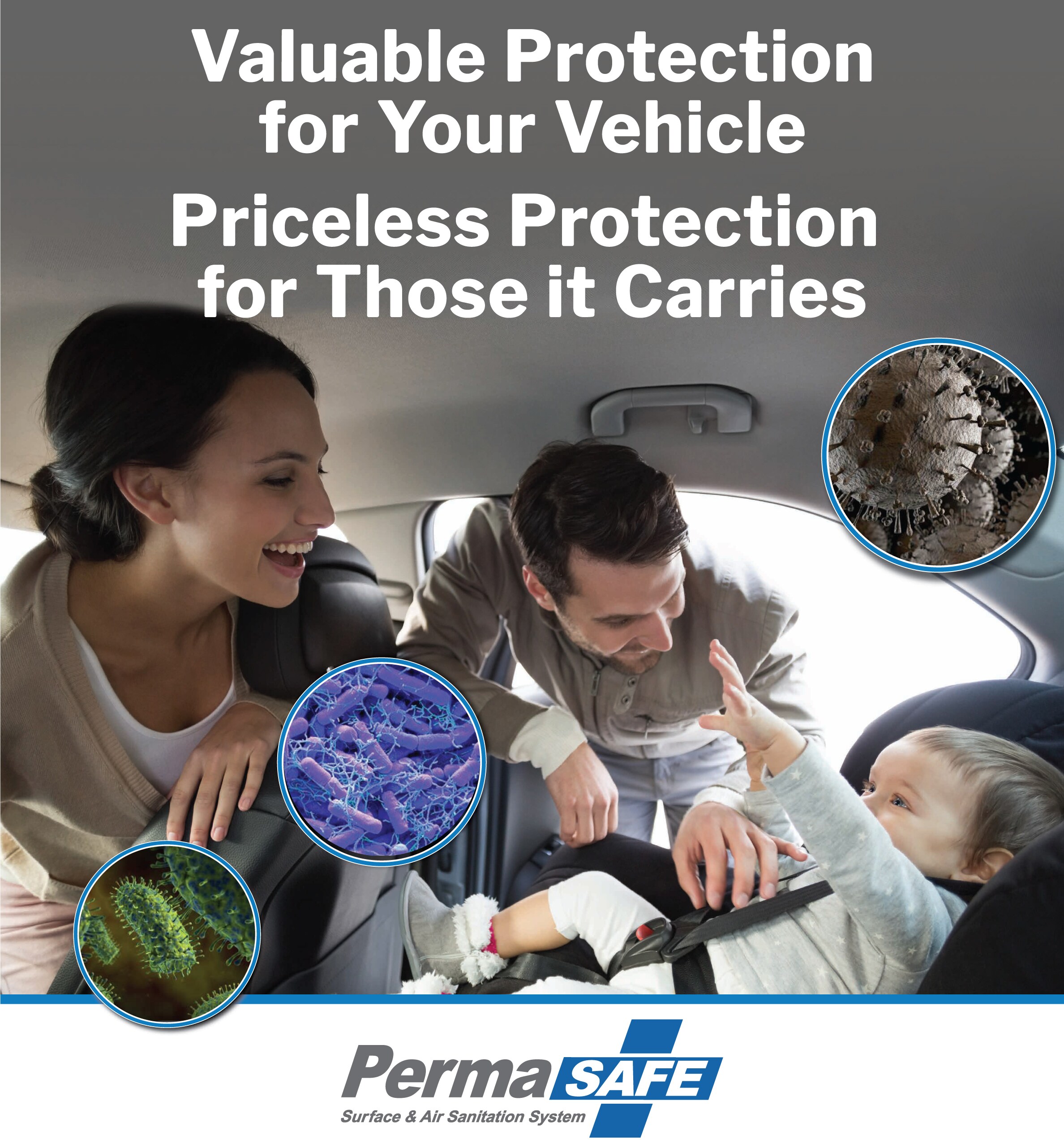 24/7 ANTIMICROBIAL SURFACE & AIR PROTECTION
AND SO MUCH MORE
PermaSafe is a revolutionary antimicrobial surface and air protectant that SAFELY and CONTINUOUSLY eliminates passenger cabin germs, bacteria, viruses and other harmful microorganisms.
Uniquely multifunctional, PermaSafe also preserves and protects the look, feel and smell of your vehicle's interior surfaces, from headliners to carpets and everything in between, while also preventing stains, fading, cracking, tears and more.
Kills 99.999% of Bacteria & Viruses. Eliminates Germs and other Harmful Microbes, PLUS Odors and Allergens
Seals, Protects and Adds Years of Life to Upholstery and Carpets
Repels and Resists Stains from Liquids, Dirt and other Spills
Prevents Future Odors, Fading, Decay and UV Damage
Disinfects and Continuously Sanitizes HVAC Systems & Ductwork. Perpetually Purifies Passenger Cabin Air
Makes Interior Surfaces Antimicrobial and Virtually "Self-Sanitizing"
Lasts, Continues to Protect and Remains Antimicrobially Effective Indefinitely
Does it all Safely and Without the Use of any Hazardous Chemicals


POWERFUL PROTECTION • POWERFUL PEACE OF MIND
The sanitary state of your vehicle is not only critical to passenger health and the condition of its upholstery, carpets and other interior surfaces, but also its resale value.
Most PermaSafe installations are now available with up to 7 Years of Optional Warranty Protection, covering the vehicle's Seats, Carpet, Dashboard, Door Panels and other Interior Surfaces for:
•  Mold, Mildew & Fungi Contamination and Remediation
•  Punctures, Tears, Cracks & Loose Upholstery Stitching
•  Passenger Cabin and HVAC System Air Quality and Odors
•  Stain Damage from Spills of Food, Drinks, Urine, Blood, Etc.
•  Fading, Discoloration and other UV Damage
• Zero Deductible and Free Rental Car on all Repairs